Six Flags Magic Mountain
Valencia, California
The Newhall Land and Farm company wanted to build a park for their 'master planned community' of Valencia, and the result was Magic Mountain. Since the park opened in May 1971, it has been home to numerous television and movie shoots. The original park theme centered around gnomes or trolls, but, when Six Flags bought the park and renamed it Six Flags Magic Mountain in 1979, they threw out the theme and brought in a hodgepodge of rides. While the park was up for sale in 2006, Six Flags was unable to find a suitable buyer, so the park remains in the Six Flags chain.
Seven coasters have left Magic Mountain:
Mountain Express (1973-1982) was a Wildcat from Schwarzkopf. After leaving Magic Mountain, it ran briefly at the now defunct Magic Landing in El Paso, Texas. After a half-decade of sitting dormant, it was moved to Bosque Mágico in Mexico. Since 1993, it has been known as Montaña Rusa.
Sarajevo Bobsleds (1984-1986) was an Intamin bobsled coaster. It is now La Vibora at Six Flags Over Texas.
Shockwave (1986-1988) was an Intamin stand-up coaster. In 1990, it started a three-year run at Six Flags Great Adventure as Shockwave. In 1993, it opened as Batman The Escape at Six Flags AstroWorld. Since 2006 it has sat in storage at Darien Lake.
Psyclone (1991-2006) See pictures below for details.
Flashback (1992-2003) After sitting dormant since 2003, it was removed in December 2007. See pictures below for details.
Deja Vu (2001-2011) is now Goliath at Six Flags New England. See pictures below for details.
Colossus (1978-2014) was recently transformed into Wicked Colossus, a steel coaster with inversions. See pictures below for details.
---
Gold Rusher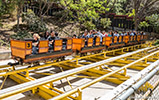 Magic Flyer
(formerly Percy's Railway, Clown Coaster, Wile E. Coyote Coaster, and Goliath Jr.)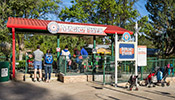 New Revolution
(formerly Revolution, La Revolución, and Great American Revolution)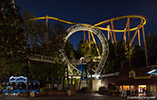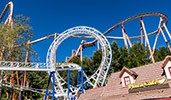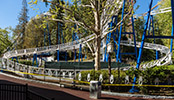 Speedy Gonzales Hot Rod Racers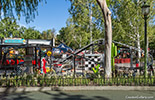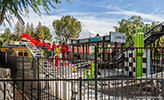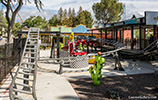 Superman: Escape from Krypton
(fomerly Superman The Escape)





















Tatsu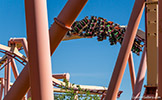 ---
CoasterGallery.com Home
©2017 JAR Productions. All rights reserved.