Six Flags Great Adventure
Jackson, New Jersey
The 235-acre Great Adventure park and the adjacent 350-acre Wild Safari were built by Warner Leroy and opened on July 4, 1971. The parks are roughly halfway between Philadelphia, PA and New York, NY. Great Adventure was purchased by Six Flags in 1977 and became the sixth park in the chain. Great Adventure was home to many coasters which have since been removed, the most notable of which are:
Lightning Loops (1978-1992) was two Arrow shuttles with their loops interlocked. One was moved to Six Flags America as Python, one went to Frontier City in Oklahoma as Diamond Back.
The Sarajevo Bobsled (1984-1988), an Intamin bobsled, was relocated to Six Flags Great America and renamed Rolling Thunder. It is now at Great Escape running as Alpine Bobsled.
Shockwave (1990-1992) came from Six Flags Magic Mountain and left to go to Six Flags AstroWorld as Batman: The Escape. It was scrapped when AstroWorld was demolished.
Ultra Twister (1986-1988) was here before it too moved to AstroWorld and was demolished when AstroWorld closed.
Big Fury (1975-1978) was a Schwarzkopf Wildcat.
Kiddie Coaster (1975-1978) was renamed Lil' Thunder (1979-1983) before it was torn down. It was a Herschell Little Dipper model.
Wild Rider (1978-1981) was another Schwarzkopf Wildcat coaster.
Viper (1995-2004) was removed in May and June 2005. (See pictures shown below.)
Batman & Robin: The Chiller (1998-2007) was modified then quickly removed in 2007. (See pictures shown below.)
Rolling Thunder (1979-2013) was a racing wood coaster. (See pictures below.)
Great American Scream Machine (1989-2010) was a 7-loop steel coaster. (See pictures below.)
---
Harley Quinn Crazy Train (formerly Blackbeard's Lost Treasure Train)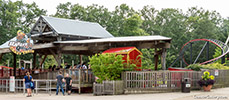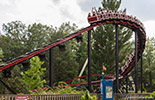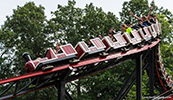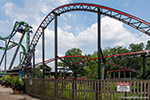 ---
CoasterGallery.com Home
©2019 JAR Productions. All rights reserved.