Carowinds
Charlotte, North Carolina
In 1969, Charlotte businessman E. Pat Hall announced his intention to build a 73-acre park straddling the North and South Carolina border. Hall envisioned Carowinds as a walk through the history and culture of both Carolinas. After an expenditure of $27 million, the park opened in March, 1973. The state line passed right through the middle of the main courtyard and was marked by plaques engraved with the names of the 146 counties that make up the Carolinas. (Unfortunately, Paramount replaced these with bricks listing movie titles.)
The park was renamed Paramount's Carowinds after it was purchased by Paramount in 1993.  The park's name reverted back to Carowinds when all five Paramount parks were purchased by Cedar Fair, Limited in 2007.
Carowinds opened Fury 325 in 2015, a 325-foot-tall Hyper-Coaster built by Bolliger & Mabillard. The ride has been on the top of several lists of the best roller coasters, so I am looking forward to returning to ride and photograph it. In 2019, Carowinds added Copperhead Strike, a Mack Rides launch coaster with five inversions. Additionally, three coasters have left the park: White Lightnin', a Schwarzkopf shuttle loop, ran here from 1977 to 1988. It is now known as Golden Loop at Gold Reef City in Johannesburg, South Africa.  Flying Super Saturator was removed in 2008 and Thunder Road was torn down in 2015.  (Pictures and details of these two are listed below.)
---
Woodstock Express
(formerly Scooby Doo, Scooby Doo's Ghoster Coaster, and Fairly Odd Coaster)






Wilderness Run
(formerly Hey Arnold's Taxi Chase, Lucy's Crabbie Cabbie, and Taxi Jam)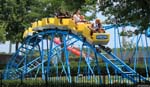 Afterburn (formerly Top Gun - The Jet Coaster)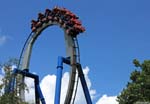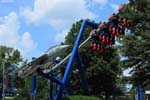 Nighthawk (formerly BORG Assimilator)









Kiddy Hawk (formerly Rugrats Runaway Reptar and Flying Ace Aerial Chase)











Flying Cobras (formerly Carolina Cobra)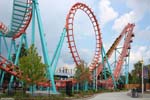 ---
CoasterGallery.com Home
https://www.coastergallery.com/ Joel A. Rogers.  All rights reserved.