Kings Island
Kings Mills, Ohio
Coney Island was a popular traditional amusement park located on the Ohio River ten miles upstream from Cincinnati, Ohio. Having a riverside location proved problematic as it was flooded several times. By the late 1960s, the owners were looking to relocate. Coney Island closed in 1971 and Kings Island debuted in 1972. (Coney Island reopened in 1974, but it presently has a very small number of rides.) Kings Island is a 364-acre theme park located 24 miles north of Cincinnati. Like its 1975 sister park Kings Dominion, the skyline here is dominated by a 330-foot tall Eiffel Tower replica. The park was originally owned by Taft Broadcasting, but the newly formed Kings Entertainment Company (KECO) acquired the park in 1983. The park's name changed to Paramount's Kings Island when it and four other parks were purchased by Paramount Communications in 1993. Viacom purchased Paramount the next year which brought Nickelodeon themes and characters to the park. Cedar Fair bought all five Paramount Parks in 2006 for $1.24 billion in cash. The park dropped the Paramount name and theme in 2007.
Five roller coasters left Kings Island: The Bat, Arrow's prototype suspended coaster, ran here from 1981 to 1983. Bavarian Beetle, a small "Galaxy" style coaster, moved here from Coney Island when the park opened, but it only lasted until 1979. Arrow's first shuttle loop, the Screamin' Demon, was here from 1977 to 1987. It ran as Thunderbolt Express at Camden Park in West Virginia from 1988 to 1999. In March 2002, the park removed King Cobra. Scooby's Ghoster Coaster was removed in late 2005.
---
Woodstock Express
(Formerly Fairly Odd Coaster, Scooby Doo, Beastie)










| | | |
| --- | --- | --- |
| Invertigo (formerly Face Off) | | Scooby's Ghoster Coaster |
Flight of Fear
(Formerly Outer Limits: Flight of Fear)





Great Pumpkin Coaster
(Formerly
Little Bill's Giggle Coaster
,
Scooby Zoom
,
Top Cat's Taxi Jam
)





The Bat (formerly Flight Deck, Top Gun)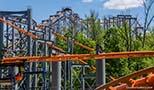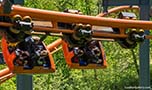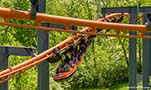 Flying ACE Aerial Chase (formerly Rugrats Runaway Reptar)









Backlot Stunt Coaster (formerly The Italian Job: Stunt Track)












---
CoasterGallery.com Home
©2017 JAR Productions. All rights reserved.