Alton Towers
Alton, Staffordshire, England, United Kingdom

Alton Towers sits about a two-hour drive south of Manchester. It has a tremendous amount of history that can be traced back to 2,000 years ago when there was a fort on the property. A castle was built on the land in the 11th century. Charles Talbot, who held the title of the 15th Earl of Shrewsbury, started developing the property in 1801. He built a massive home and created one of the largest formal gardens in the country by planting over 13,000 trees, erecting a huge Pagoda fountain, and creating several beautiful ponds. These gardens still exist in the middle of the park today. The 16th Earl of Shrewsbury was Charles' nephew John Talbet. He moved into the property and renamed it Alton Towers in the 1830s. The 20th Earl of Shrewsbury, also named Charles Talbot, founded the Talbot automotive manufacturing company, also called Clément-Talbot, but ended up selling the property to local businessmen in 1924. Alton Towers was used by the War Office during World War II, but the main house was renovated and rides were added in the 1960s and 1970s in order to make the site a visitor destination. Since the 1970s, the amusement park has continued to expand, and it has been owned by several different groups. It was purchased by The Tussauds Group in 1990, and that organization was purchased by the British-based Merlin Entertainments company in 2007.

Eight coasters, all steel, have left Alton Towers:
4 Man Bob (1985-1990) was one of a small number of "Four Man Bob" steel coasters built by Zierer. It has been at many parks in the United Kingdom and has operated as 4 Man Bob at Trentham, Four Man Bob at Pleasure Island Family Theme Park, Flying Trapeze at Flamingo Land, and Thunderbolt at Groveland. It last operated in 2010 as Gold Rush at Loudoun Castle, but it has been Standing But Not Operating since 2011, as the whole park has been sitting dormant since 2011.
Alton Mouse (1988-1991) was a Vekoma Wild Mouse that started as Speeedy Gonzales at Wiener Prater in Austria in 1985, and has been Wild Mouse at Idlewild & SoakZone in the United States since 1993.
Beastie (1983-2010) was a Wacky Worm from Pinfari, but was also called Dragon and Mini Dragon.
Black Hole (1983-2005) was an indoor Schwarzkopf "Jet Star 2" model. Since 2011, it has been operating as Rocket at Furuvik amusement park in Sweden.
Corkscrew (1980-2008) was a Vekoma Corkscrew. (See pictures below.)
Big Apple (1982-1997) was another Wacky Worm from Pinfari. Since 1998, it has been Big Apple at Great Yarmouth Pleasure Beach in England.
New Beast (1992-1997) was a Schwarzkopf "Jet Star" model. For a few years, it was Space Mountain, an enclosed coaster at Divertido in Mexico. Since 2010, it has been Tornado at Salitre Magico in Columbia.
Thunderlooper (1990-1996) was a first-generation Schwarzkopf Shuttle Loop that dropped a 40-ton weight to launch the train. The ride originally was King Kobra from 1977 to 1986 at Kings Dominion in Virginia. From 1987 to 1989, it was King Kobra at the Jolly Roger Amusement Park in Maryland. Since 1999, it has run as Katapul at Hopi Hare in Brazil.
---
Octonauts Rollercoaster Adventure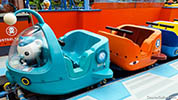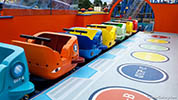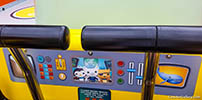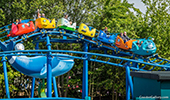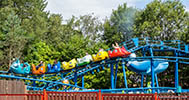 Rita (formerly Rita - Queen of Speed)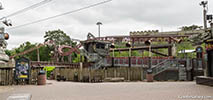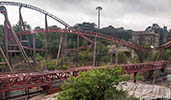 Spinball Whizzer (formerly Sonic Spinball)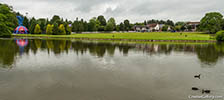 ---
CoasterGallery.com Home
©2019 JAR Productions. All rights reserved.