Silverwood Theme Park
Athol, Idaho
Silverwood Theme Park and Boulder Beach water park are located in the Idaho mountains about fifty miles northeast of Spokane, Washington. The park was created in 1988 when owner Gary Norton bought a small airport and set up an antique aircraft museum. A few years later, he bought a 1915 steam locomotive at an auction and placed three miles of track around the 700-acre property. When the park opened, the train was the only ride. Silverwood has been expanding ever since and currently has nearly two dozen rides. Unfortunately, the airport was closed when the water park expanded and forced the partial closure of the runway.
Only one coaster has left Silverwood: Coaster was a Molina & Sons kiddie coaster that operated here for a few years in the 1990s.
The player below contains Episode 1212 of the CoasterGallery.com Podcast recorded live at Silverwood. If you browser doesn't display the player, you can download Episode #1212 here.
---
Corkscrew
(formerly Gravity Defying Corkscrew)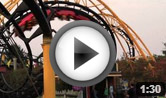 ---