Wild Adventures
Valdosta, Georgia
This park started in 1996 when Kent Buescher opened the Liberty Farms Animal Park. It began as a small petting zoo, but rides started to appear in 1998. In 2004, the privately held company owned by Buescher, the Adventure Parks Group, purchased Cypress Gardens in Winter Haven, Florida. Wild Adventures' expansion died down following the Cypress Gardens purchase. In September 2006, Adventure Parks Group filed for Chapter 11 bankruptcy protection. This was caused when Cypress was hit with over $25 million in damages due to Hurricanes Charley, Francis, and Jeanne. The Herschend Family Entertainment group purchased the park in 2007 and added several rides, three of which came from the defunct Celebration City in Branson, Missouri.
Three coasters, Gold Rush, Tiger Terror, and Viking Voyage, have been removed from the park. Click on their pictures below to read about their history.
---
Go Bananas! (formerly Bug Out)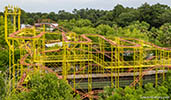 Outpost Express (formerly Ant Farm Express)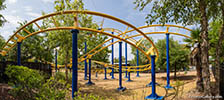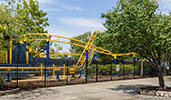 Swampwater Snake (formerly Fiesta Express)


Twisted Typhoon (formerly Hangman)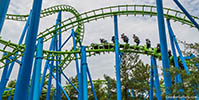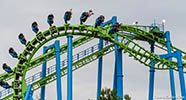 ---
CoasterGallery.com Home
©2019 JAR Productions. All rights reserved.