Six Flags Over Texas
Arlington, Texas
In 1959, Texas real estate developer Angus G. Wynne, Jr. founded the Great Southwest Corporation. After a ten million dollar investment, the park opened on August 1, 1961. Wynne decided his park would have six areas based on the governments that have ruled Texas: Spain, France, Mexico, the Republic of Texas, the Confederate States, and The U.S.A. The park was going to be named Texas Under Six Flags, but Wynne decided Texas should not be under anything.
Wynne passed away in 1979, but his legacy continues. Two other Six Flags parks were built, and several other existing parks were purchased and brought into the Six Flags family in the 1970's. In 1981, Six Flags Theme Parks was incorporated and sold to Bally's a year later. In 1987, Wesray Capital purchased the chain for $617 million. Time Warner began managing the parks in 1991. In 1998, Premier Parks purchased Six Flags from Time Warner as well as the rights to use DC Comics and Warner Bros. characters. After divesting its European parks and the Ohio park in 2004, closing two parks in 2005, selling six parks in 2006, and selling or closing most of its water parks in 2007, the Six Flags brand name, which used to have nearly 40 properties, presently covers 19 parks in North America.
Six Flags Over Texas had the world's first log flume ride and the first Mine Train coaster. The 300-foot tall Oil Derrick observation tower opened in 1969. One of the two original Intamin Freefall rides opened here in 1982. Three coasters have left the park:
Big Bend (1971-1978) A Schwarzkopf coaster with two lift hills. It was scrapped in the 1980s.
Cucaracha (1961-1962) was briefly called Sidewinder. It was a Herschell Mad Mouse.
Flashback (1989-2012) was a Vekoma Boomerang. (See pictures below for details)
---
La Vibora
(Formerly Avalanche)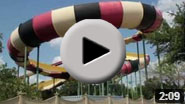 Runaway Mine Train
(formerly Mine Train and Run-A-Way Mine Train)








Wile E. Coyote's Grand Canyon Blaster





Pandemonium (formerly Tony Hawk's Big Spin)












---
CoasterGallery.com Home
©2013 JAR Productions. All rights reserved.